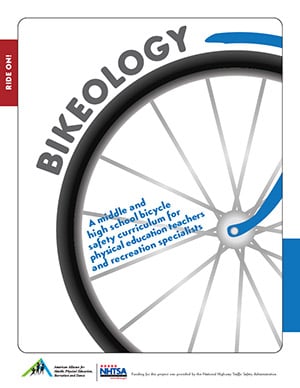 Bikeology, developed and evaluated as a part of a cooperative agreement with American Alliance for Health, Physical Education, Recreation and Dance (AAPHERD) and the National Highway Traffic Safety Administration (NHTSA), is a model on-the-bike curriculum for those trained to teach children.
This curriculum, part 1 and 2, is aligned with the National Standards for K-12 Physical Education and includes lessons and assessments for the skills and knowledge students need to enjoy a lifetime of safe bicycling.
It also includes a parent section including 12 individual tip sheets to engage parents in the learning process about traffic safety. The sheets encourage parents to not only reinforce what their child has learned but also encourages parents to be "Roll Models" by always demonstrating safe behaviors when walking, bicycling and when driving around pedestrians and bicyclists. Included are tip sheets on: sharing the road; distracted walking, bicycling and driving; and defensive walking and bicycling. One or more of the tip sheets can work with the Bikeology class or other safety events like Bike to School Day.
*Funding and technical support for this project provided by the National Highway Traffic Safety Administration